Apache Drill is helping researchers and data scientists to analyze the unstructured data to get the value from it and it is not just limited to data scientists and researchers, Apache Drill is being used across the globe by many organizations and enterprise companies to support their business-critical applications such as row data exploration, JSON data sets analysis, analyzing the unstructured data and loading data into data warehouse systems. Apache Drill is also being used for the reporting tools such as Tableau, MicroStrategy, Qlik, and so on.
The following figure presents the Apache Drill use cases and the interaction of drill with different types of sources and reporting tools.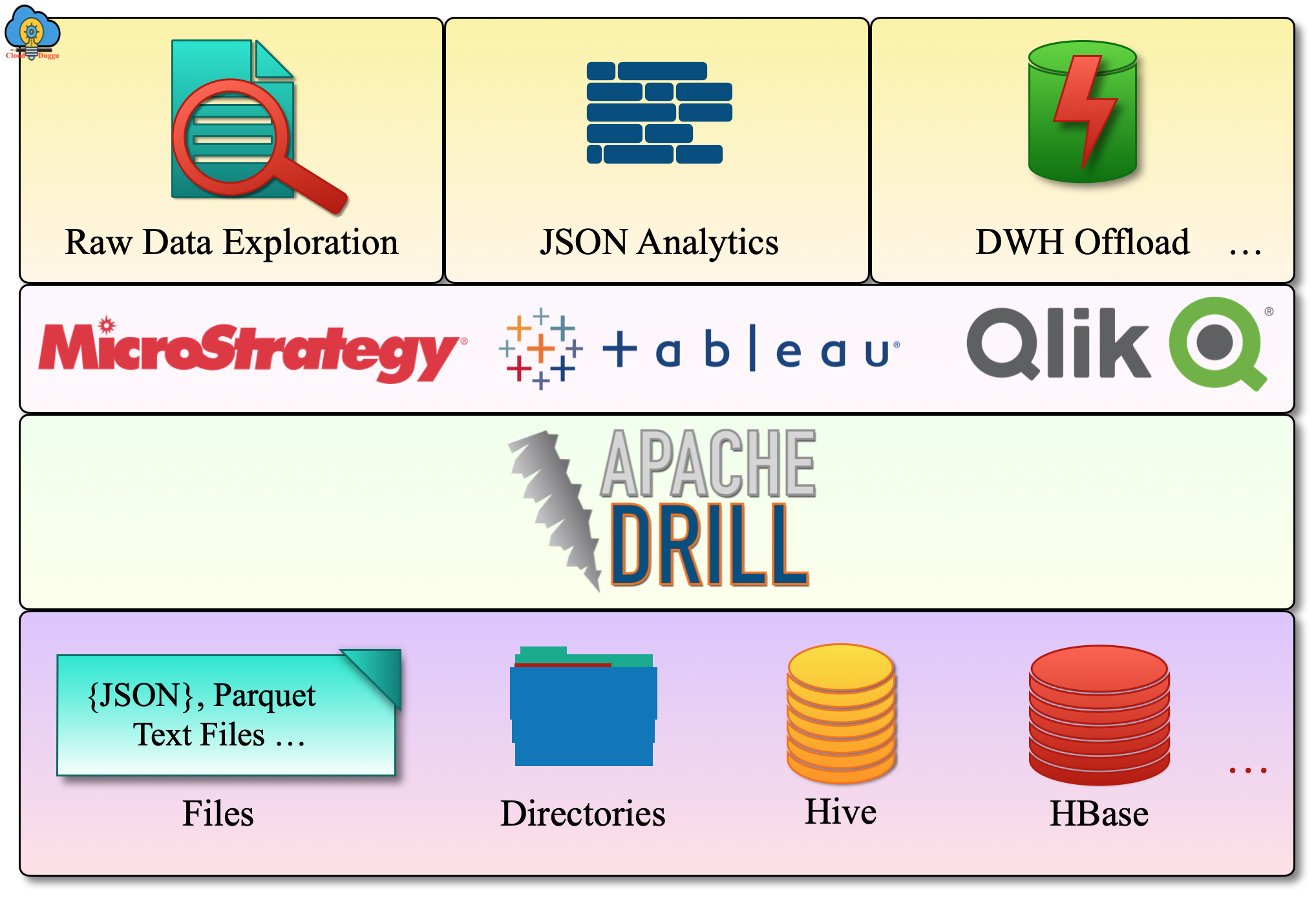 Companies and Enterprises Using Apache Drill
The following are some of the notable lists of companies that are using the Apache Drill in their production applications.
Intuit
Intuit is the financial software providing company that uses the Apache Drill for the analysis and generation of the report from Kafka clickstream topics. The advantage of using Apache Drill is its union type that provides the supports for clickstream that is also a JSON format data.
Ericsson
Ericsson is a multinational networking and telecommunications company that uses Apache Drill to analyze their wireless network devices uses by running the SQL query on a larger number of datasets.
RedBus
RedBus is the online BUS ticketing platform in India that uses the Apache Drill to perform the ETL( extraction, transformation, and loading) operation. It uses Kafka, Amazon S3, and MongoDB for datastore.
FinAnt
Ant Financial is China's largest digital payment platform that the Apache Drill to perform the Adhoc query operation also uses the drill to perform service data analysis to get insight to make business decisions.
TransUnion
TransUnion is the consumer credit reporting agency that uses Apache Drill to perform the reporting and the BI operation.